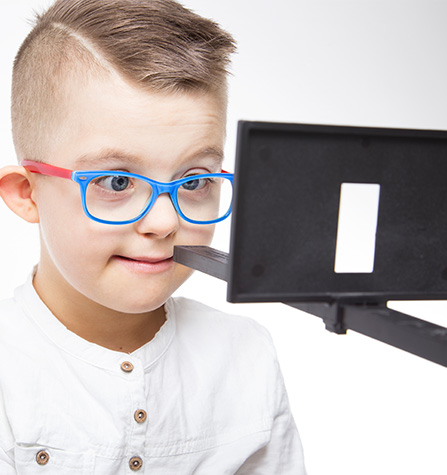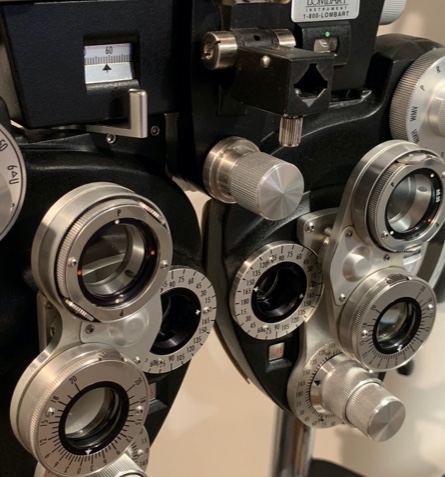 Strengthen the Connection Between the Eyes & the Brain
Vision therapy is an excellent resource to improve the overall connection between the eyes and the brain. Through a series of strengthening activities and exercises, vision therapy can enhance the eyes' general functioning and coordination. Although it's most commonly prescribed for children, it can be effective for both kids and adults.
Our vision therapy programs at Acuity Vision Optometry Boutique involve comprehensive testing and detailed assessments to personalize your treatment plan based on your unique needs. Vision therapy can make a significant difference in your child's life, but it requires dedication and commitment.
If you have any questions or are interested in what vision therapy can do for you, please contact our office.
How Vision Therapy Can Help
Vision therapy can treat a myriad of vision problems through dedicated practice and personalized treatment. Over 80% of learning is visual, which means strengthening the visual system is crucial, especially for children. Vision therapy can unlock your child's potential, and we'll be here to help every step of the way!
Common problems treated with vision therapy can include:
Eye tracking: how well the eyes follow a moving target.
Eye teaming: how well the eyes work together.
Binocular vision: the ability to fuse separate images from each eye into one image.
Accommodation: the eye's ability to focus.
Visual-motor integration: hand-eye coordination.
Amblyopia: a "lazy eye" that develops when one eye fails to attain normal visual acuity.
Convergence insufficiency: inability to keep the eyes aligned when focusing on near objects.
The Science Behind Vision Therapy
Studies show that the human brain has a significant amount of neuroplasticity, which means it can change its structure and function in response to external stimuli. These changes were initially thought to only be possible in children but have also been demonstrated in adults. A study was completed where experienced adult typists underwent long-term training to improve their keyboarding skills. The participants experienced increases in gray matter volume in their brains, suggesting that learning affects both function and brain structure.
Vision therapy experts say that properly-administered therapy programs can effectively correct vision problems and improve visual performance through neurological changes. Recent findings and continued research have shown that these claims may ring true.
Vision Therapy Programs at Acuity Vision Optometry Boutique
At Acuity Vision Optometry Boutique, it's our primary goal is to help you and your family enjoy clear vision and good ocular health for as long as possible. We'll work with you closely to develop a vision therapy program that works for you and your lifestyle.
Your program will likely include a combination of in-office vision therapy sessions and home-based computer programs. During your initial consultation, we'll take the time to discuss everything your program will involve and the desired results. You'll also have the opportunity to ask any questions. We'll be sure to answer them so you feel confident and informed.
Request Your Appointment Today!
If you're interested in vision therapy and how it can improve you or your child's quality of life, we'd love to hear from you! Give us a call or request an appointment using our convenient online form.
Where Are We?
We're on the corner of Sacramento Street and Locust Street in the retail district of Presidio Heights. There's ample free street and public garage parking nearby!

Our Address
3610A Sacramento Street
San Francisco
,
CA
94118
What Our Patients Are Saying
*To maintain authenticity, all featured reviews are unedited.
We went there on August 15, 2019. Everyone we encountered treated us kindly and were easy to communicate with. They cared about their jobs and the patients. We saw the same treatment with the other patients around us too.
Alfie T.
Yuvitza helped me find the perfect glasses to fit my face shape and size. She takes her time and makes sure the fit is perfect. Never going anywhere else again!
Paige V.
I have known Dr. Lyndi Schmidt since my first daughter was born 14 years ago. My husband and I were seeking an eye doctor for our growing family as both my husband and I have poor eyesight. She was not only patient and thoughtful about her recommendations but also honest as a mother, sharing her own experiences. My second daughter was born with extremely poor eyesight and Lyndi was quick to recommend a patch and a specialist at California Medical to work with my daughter to prevent vision loss. The clinic is welcoming, clean, and the boutique transforms as the season changes with events for children to take part in! The eye glasses selection is also desirable for picky children like mine, and with gorgeous, trendy and classic frames for myself and my husband!
I highly recommend Lyndi and her team to care for your family eye care needs.
Emilia D.
My wife and I couldn't be happier. High-quality eye exams, frames, lenses, in a very comfortable and caring environment. One stop shopping.
Bob W.
We all know vision is the most precious sense, but we also seem take our eyes for granted. Lyndi Schmidt doesn't though, and I always come out of my visits deeply comforted by the fact that she is looking after my eyes beyond compare. Dr. Schmidt is ultra-meticulous and professional and has an exceptionally personable approach to work. Her staff are superb and will bend-over-backwards to make sure one walks out of the office fully fitted and ready to roll. One by one, our family (including our nanny) go to Dr. Schmidt and trust that at least one priceless sense is in great hands.
Lorem
I have been a patient of Acuity Vision for over eight years. The professional care, service, and knowledge of Dr. Schmidt and staff is outstanding. Entire team actively listens to patient's needs and works with them to achieve the highest level of patient satisfaction. I highly recommend Acuity Vision for one's eye care!
Lori P.
You have given sight to the blind! Thank you so much for your generous gift of the eye exam and the great glasses. Everything is so clear!
Reverend Anthony R.
Dr. Schmidt and her ENTIRE staff are terrific. I constantly recommend Acuity Vision because it is so helpful to have pediatric AND adult care in one place. Our whole family goes to Acuity Vision. Our elementary age children are given thorough and kind care! My husband and I appreciate and value Acuity's expert care, knowledge of our vision insurance, and Saturday hours! They are also wonderful about drop-in glass adjustments. It's fun to shop for new frames as they stock fabulous inventory.
Whitney B.
When you walk into Acuity Vision Optometry Boutique you are made to feel more like family than a customer! Lyndi Schmidt and all the staff are very warm and caring. I always look forward to seeing them all on my annual checkup, and even between appointments to pop in to say hi.
David P.
Some years ago, when I developed serious vision problems that required the attention of a specialist, Dr. Schmidt remained involved and it was she who noticed that the specialist had missed an important element of the diagnosis. She alerted the specialist, as well as my primary care physician and me, and because she did I was able to preserve vision in my left eye and avoid other possibly grave complications related to the problem. Now I rely on her, not only for yearly exams, but to follow the reports of other doctors, something specialists don't always do.
Bill Meehan, PhD
I love watching the movies and the toys. I like that I can see without it being blurry.
Andrew D.
I loved the fact that your offices are kid friendly. Your staff is wonderful and Andrew loves his glasses. Repairs and adjustments were done quickly. I never would have known he had a problem had you not done your initial screening. Now he can see, doesn't complain of headaches and is able to write some letters.
Sean D.